Cordless options available

for most products
Rochester's Largest Window Treatment Showroom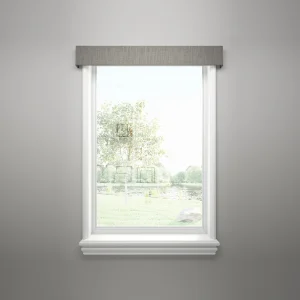 Tailored Fabric Cornice
No padding for a modern look
Choose any solid or print fabric
Optional welt, in same or contrasting color
Available with nailhead trim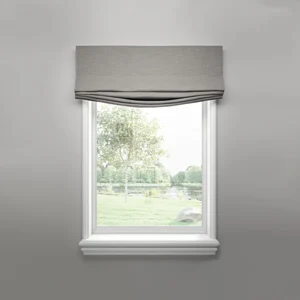 Relaxed Valance Style
Slight hour glass effect occurs on sides
Unstructured swags at hemline
Wider widths will have have more than one swag
Ideal for solids, stripes & small scale patterns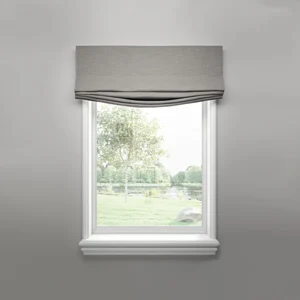 Soft Roman Fabric Valance
Overlapping folds spaced at 4" to 6" intervals
Privacy lining
Ideal for solids, stripes and small scale patterns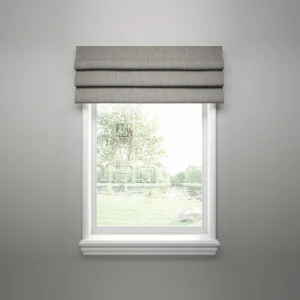 Corner Pleat Fabric Valance
Flat across front with tucked pleats at corners
Self welt at the top (outside mount option only)
Note: prints won't line up at pleats
An innovative window treatment that looks beautiful and insulates your home all year round, Duette® Honeycomb Shades were the first cellular shades, specially engineered to provide energy efficiency at the window in both cold and warm climates. Their specially engineered honeycomb construction traps air in distinct pockets, which creates insulation that can help lower your energy consumption and energy bills. Decorate every kind of window you have—even tricky skylights and unusually shaped panes—with Duette. Our signature honeycomb shades are one of our most versatile options and beautify every kind of interior.
Premium Design & Style, Largest Selection in the Industry, Energy-Efficiency, Room Darkening, Durable, Vertical Application, Sound Absorption
Designers Screen / Roller Shades
With their clean lines and innovative yet straightforward operation, our Designer Roller Shades are the most advanced and beautiful roller shades available. Loved for their appearance, quality and premium style, they look equally as beautiful in a contemporary, minimalist space as they do under drapery panels in a classic, traditional setting.
Two Shades in One—our newest Designer Roller Duolite® Shades are the first-ever double-fabric combination of a light-filtering sheer and a room-darkening opaque liner on a single shade.
Large Fabric Selection—Choose from over 400 fabrics, from sheer to opaque, to find the perfect level of light control for your space.
Top & Bottom Treatments—Customize your Roller shades with your choice of top treatment that conceals the fabric roll for a clean look. We also offer a selection of bottom treatments, including fabric-wrapped options.
Silhoutte® / Nantucket™
HORIZONTAL WINDOW TREATMENTS, ELEVATED
Tasteful and timeless, our Nantucket™ Window Shadings have light-transforming properties. Their 3" fabric vanes are suspended between two sheer fabric facings, creating a warm, diffused-light effect.
Transform Your Light—Nantucket shadings, with the Signature S-Vane™, help soften and diffuse ambient light as it enters a room. Fabric vanes that are suspended between two sheers can tilt to achieve your desired privacy.
UV Protection—Protect your furniture, flooring and artwork from at least 75% of harmful UV rays.
Sonnette®
There's more than meets the eye with our Sonnette Cellular Roller Shades.
This cellular roller shade looks like a simple roller shade but is actually crafted from two layers of fabric that diffuse light and create a soft glow at your window.
That undetectable second layer helps make these cellular roller shades energy-efficient.
Energy Efficiency—The proprietary cellular construction provides an energy-efficient layer that insulates your home in the winter and cools it down in the summer. Sonnette shades provide superior energy efficiency over traditional roller shades.
Color Options—Explore four fabric collections that include many beautiful colors, ranging from popular whites and neutrals to vibrant hues. With semi-opaque and room-darkening options, there are numerous fabrics to suit your needs.
Vignette®
Luxurious fabrics and soft folds give Vignette Modern Roman Shades a clean, crisp look. Each full or flat fold in the fabric is designed to create a uniform aesthetic that operates seamlessly. The added benefit of no exposed rear cords improves window aesthetics and offers enhanced child safety.
Gorgeous Fabrics
Premium Design & Style
Style Options
Consistent Appearance
Duolite
Shutters - Newstyle
Combining the natural style of genuine wood with the durability of advanced, man-made materials, NewStyle Hybrid Shutters are both practical and beautiful, and have a range of colors, design styles and configurations to suit any interior.
Attractive and functional, NewStyle shutters now have the added convenience of SoftClose Louvers that feature a soft closing mechanism and Quick Align™ preset louver positions that make adjusting, aligning and closing all your NewStyle shutters easier than ever.
Hybrid Material—NewStyle shutters are made from a wood composite material co-extruded with a polypropylene coating for a quality product that's built to last.
Finetech Finish—Our proprietary Finetech low-luster finish replicates the warmth and character of solid wood on all NewStyle Hybrid Shutter colors.
UltraGrain—A grain-like finish mimics the beautiful look of genuine wood.
Quality Construction—Truemill® dovetail construction is a master woodworking technique. This structurally sound method holds panels together by interlocking the components.
Specialty Shapes—NewStyle shutters are available in a wide range of specialty shapes, including arches, angles, circles and more.
An exclusive product to Hunter Douglas, Pirouette shadings feature softly contoured, front-facing fabric vanes attached to a single sheer backing. During opening and closing, the vanes move in tandem for a fluid, graceful effect. Pirouette shadings can also be raised completely into the headrail for a totally unobstructed view.
Clear View-Through
Bold Fabrics & Colors
Premium Design & Style
Invisi-Lift
UV Protection
Draperies
Stationary side panels and fully functioning drapery.
Exquisite Fabrics—Featuring luxe basics, lofty textures, alluring jacquards, artisanal embroideries and luminous sheers. Performance fabrics, that is, ones designed specifically for durability, stain resistance and UV stability, are also available.
Styles—Side panels and drapery are available in multiple styles:
Side Panels: two-finger pinch pleat, two-finger European pinch pleat and grommet
Drapery: two-finger pinch pleat, two-finger European pinch pleat and ripplefold
Fullness—Feature a deluxe 2.5x fullness. Ripplefold™ Drapery comes standard with 2x fullness.
Light Control—All fabrics other than sheers are fully lined with a white light-filtering or room-darkening liner.
Finishing Details—Tailored headers feature handcrafted pleats and a 4" buckrum for uniformity and quality. 4" double bottom hems, combined with double-turned side hems and 4" pillow-cased turned hems, provide a custom finish.
Drapery Hardware
Solera®
Enjoy the timeless beauty of Roman shades with a contemporary twist.
The fluid, unique look of Solera Soft Shades is created by combining the soft folds of a classic Roman shade with the construction of a cellular shade. These cordless soft shades bring together soft, diaphanous folds of fabric with a cellular construction. The result? A striking soft window treatment that's also energy-efficient. Smartly designed pockets trap air and keep your home warmer or cooler, depending on the season.
Provenance®
Introduce an element of nature into your home with our artisanal Provenance Woven Wood Shades.
Provenance Woven Wood Shades are crafted from natural woods, reeds, bamboo, and grasses. From textured fabrics to more refined weaves, the natural fibers add an organic style to your room and filter sunlight beautifully.
Add extra flair with customizations—like valances or edge banding. Install them with or without a liner, depending on how much light-filtering and privacy you're after.
However you design them, Provenance shades provide your space with the inimitable quality only achievable with organic fibers.